THE MONSTER THAT'S OFTEN UNDETECTED
Child sleep problems are hard to detect because they can remain hidden behind so many other childhood difficulties. Like a thief in the night, disrupted sleep robs your child of the rest needed for healthy growth and development.
Unfortunately, according to the American Academy of Pediatrics (AAP), most pediatricians aren't prepared to deal with sleep disorders. In 2011, the AAP conducted a study showing that among pediatricians:
More than 80% had no formal sleep disorders training
More than 83% did not feel confident in providing guidance concerning children's sleep problems
More than 86% failed to answer questions about snoring and sleep apnea correctly
That's one reason why childhood sleep problems remain severely underdiagnosed. Instead, we find terms such as ADD/ADHD and Oppositional Defiant Disorder gaining in popularity.
A surprising national study of 11,000 children in 2012 found that Sleep Disordered Breathing led to a 60 to 80 percent increased risk of ADHD symptoms.
Meanwhile, treatments for these misdiagnosed symptoms are not sufficient because the underlying sleep problems remain untreated.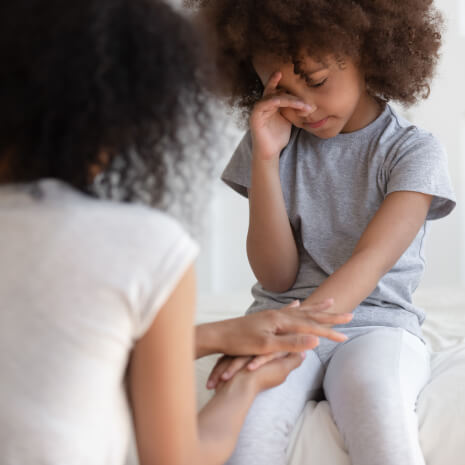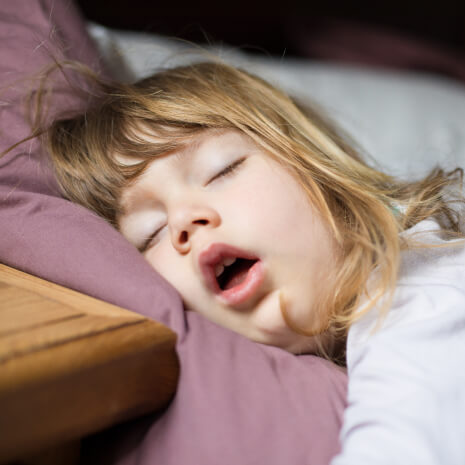 THE MONSTER THAT'S OFTEN UNDETECTED
Watch for these symptoms in your child, as they're common signs that your child may be having sleep issues:
Excessive Daytime Sleepiness
Trouble Sleeping or Staying Asleep
Nightmares
Bedwetting
Sleepwalking
Snoring
If you notice your child exhibiting these symptoms, he or she might be suffering from a sleep disorder. Recognizing the signs of childhood sleep issues can help you set your child up for success by eliminating this dreadful problem.
EFFECTS OF CHILD SLEEP PROBLEMS
Child sleep issues are more common than you may think. A National Sleep Foundation survey found that almost 70% of kids aged 10 and under have suffered from a sleep issue of some sort.
Studies have also shown that up to 50 percent of kids aged 3-5 suffer from sleep problems such as short sleep duration, sleep-disordered breathing, and behavioral sleep problems. These conditions are difficult to detect because parents are usually not aware of the telltale signs. If a sleep disorder remains untreated, your child may suffer from:
Poor academic performance
Also, some studies have shown that sleep problems may lead to the following long-term effects:
Diminished cognitive function
Increased likelihood of requiring special education
The good news is that we can prevent these long-term effects with early identification and proper medical treatment.
KEEP YOUR CHILD SAFE WITH EFFECTIVE TREATMENT
As a parent, you want to give your child the best chance of success. Learning about their sleep issue and finding a solution to it can provide benefits beyond measure, helping your child succeed physically, emotionally, and academically.
To learn more about sleep treatment for children, reach out to us by calling (443) 341-3085. You can also send us a message through our convenient contact form and we'll get right back to you.
How common are child sleep problems?
According to the American Academy of Family Physicians (AAFP), up to 50% of children will experience a sleep problem at some point. Paying attention to early indicators and seeking treatment is the best way to help them get back to sleeping well. 
What are the most common childhood sleep disorders?
In toddlers and young children, having problems falling asleep and staying asleep are the most common issues. Little ones have trouble regulating their bodies. Parasomnias, sleepwalking, sleep talking, and sleep terrors, are also common. Childhood sleep apnea is the third most common pediatric sleep disorder, affecting 1-10% of kids. 
What are some early indicators that a child has a sleep disorder?
Early identifiers of childhood sleep disorders include daytime sleepiness, irritability, learning difficulties, poor academic performance, behavioral problems at home and at school, and motor vehicle accidents in adolescents. 
How are childhood sleep problems treated?
Much like adult sleep problems, child sleep problems are typically treated with a combination of behavioral therapy and lifestyle changes. In children, this typically means establishing a strict bedtime routine and avoiding caffeine, sugar, and other stimulants before bedtime.